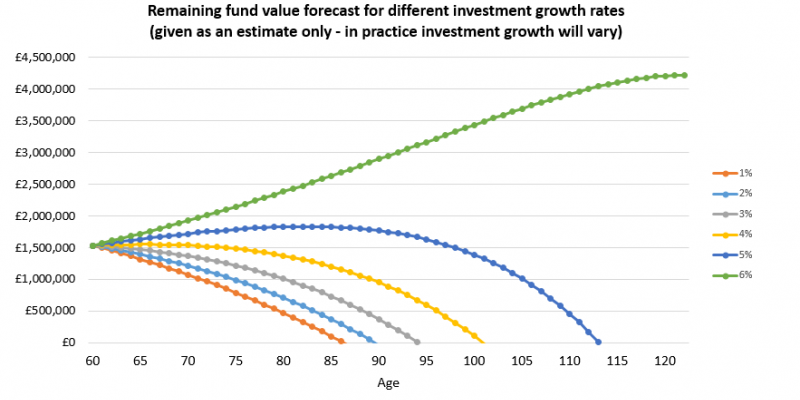 What did the client ask us to do?
The client, a consultant from the south east of England who has just retired, asked us to provide advice on the transfer of his £1.5m final salary pension to a SIPP. His reasons were:
Flexibility to take greater lump sum and income in earlier years when healthier and more active
Ability to pass any residue to his wife and children, in full, on his death
Make the most of the current historically high transfer values
What did we do?
As part of our free pre-assesment service we set out his options, including what income he might expect from:
Staying in the DB scheme
Transferring out and buying a lifetime annuity
Transferring out into income drawdown.
This included scenario analysis of how long his transfer value might last in income drawdown at various levels of future investment growth (an example of this is shown in the chart above).
We explained all the risks to the client, including the effect of the Lifetime Allowance on his pension, and the effect of all the charges. Having considered all of this the client asked us to arrange the transfer. We recommended an appropriate SIPP provider, and suggested a portfolio of investment funds that the client could consider, given his appetite for investment risk. In this particular instance the client will be managing the portfolio himself on an ongoing basis, which we are happy with as he has substantial experience of managing investments already.
How much did it cost?
The initial analysis was done at no cost and with no obligation on either side. The cost of arranging the transfer itself was 0.75% of the transfer value, which was deducted from the transfer proceeds as they transferred over to the SIPP.